Home page||| LNG handling ||| LPG handling||| Other Gas products||| Fire & Safety||| Emergency response |||



LNG vessel construction -Advantages of Moss Rosenberg technology



The LNG cargo containment system consists of insulated independent spherical tanks constructed from aluminium alloy and designed to carry LNG at cryogenic temperatures and at a pressure close to atmospheric pressure.



The tanks are encased within void spaces and situated in-line from forward to aft within the hull. The spaces between the inner hull and outer hull are used for ballast and also provide protection to the cargo tanks in the event of an emergency situation, such as a collision or grounding.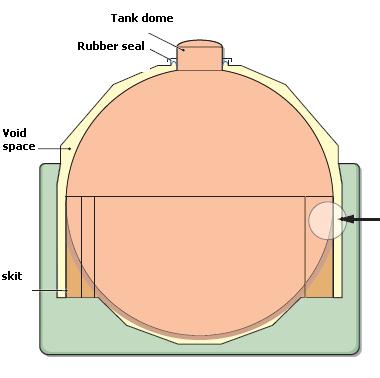 Fig:Moss Rosenberg LNG technology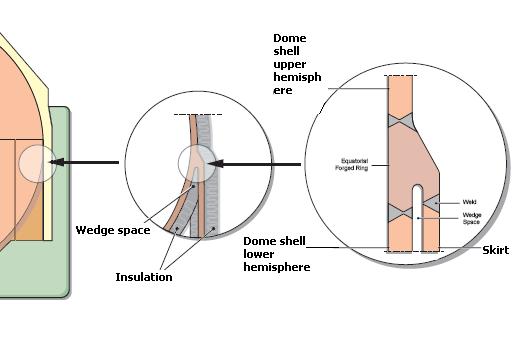 There is no secondary barrier as the tanks, primarily due to their spherical construction, have a high degree of safety against fracture or failure. The tanks are heavily insulated with approximately 220 mm of polystyrene foam to reduce boil-off to a minimum.

Each tank is covered by a spherical steel tank cover, the main purpose being for tank and insulation weather protection. The cover also permits control of the hold space atmosphere. The lower edge of each cover is welded to the weather deck, forming a watertight seal. A flexible rubber seal is used at the point where the tank dome protrudes out from the cover.

The tanks are each supported by a metal skirt from the equatorial ring, which transmits the weight of the tank and the cargo to the lower hull. The skirt is stiffened in the upper part by horizontal rings and the lower part by vertical corrugated stiffeners.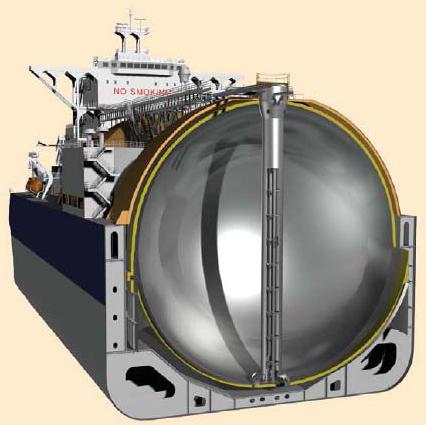 Fig:LNG Moss tanks

Leak detection

The basis of the design philosophy is the 'leak before failure' concept. This presumes that the primary barrier will fail progressively, not suddenly and catastrophically.

In the case of a crack occurring in the tank material, a small leakage of LNG within the insulation will be detected at an early stage by the gas detection system fitted at the equatorial ring area and at the drip pan. The drip pan, installed directly below each cargo tank, is fitted with temperature sensors to detect the presence of LNG.






Any leakage of LNG liquid will drain by gravity from between the tank plating and the insulation to the southern hemisphere and will collect in the drain tube at the bursting disc, then to the drip pan. The drain tube at the bottom of the insulation space is sealed in normal service by a bursting disc which is designed to fail at cryogenic temperatures.


LNG operating instructions- various important terms related with cargo handling


Related Information:





























// Home page/// LNG handling /// LPG handling/// Sea transport /// Gas products///

Cargo work ///Fire precautions ///Health hazards ///Safety Precautions

///Emergency response ///





Copyright © Liquefied Gas Carrier.com All rights reserved.


The content published in this website are for general reference only. We have endeavoured to make the information as accurate as possible but cannot take responsibility for any errors. For latest information please visit www.imo.org . Any suggestions, please Contact us !

///Links &Resources // Terms of use/// Privacy policy///Home page///