Overall, a LNG ship carries natural gas product under storage conditions at a volumetric ratio of approximately 600 times that of the product at STP conditions. This is achieved with storage conditions of -260°F (-162°C) and atmospheric pressure. Large ships of this type carry approximately 3.0 BCF and more of natural gas.
Specific distillates of natural gas, Butane and Propane, both also produced from crude oil refining, are gaseous at ambient temperature and pressure and yet are liquid when stored and transported under modest pressure or in a moderate refrigerated state (hence the name LPG).
Specialised LPG ships have been developed to utilise these particular properties, being either pressurised, fully-refrigerated, or semi-refrigerated (trade as both pressure and refrigerated storages) containment systems.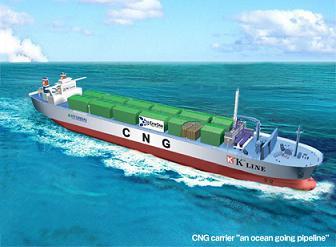 Fig:CNG ship at sea
Compressed Natural Gas (CNG) has also been developed as a shipping concept, relying on the high pressure containment technology used in conventional pressure vessel CNG storage and in pipeline systems to provide a form of concentrated gas storage which can be fitted onboard ships. The CNG concept that has been around for a long time, seeks to offer savings by removing the need for the expensive onshore refrigeration trains required for LNG.
However, CNG still needs separate gas conditioning and process systems to get the production gas segregated and suitable for transportation. A separate LPG processing and transportation system is also needed.
CNG carriers are a cost effective, reliable and safe alternative to the traditional ways of transporting natural gas via subsea pipelines or Liquefied Natural Gas (LNG) carriers.
When circumstances allow it, pipelines provide the best option for transporting gas over short distances, while Liquefied Natural Gas carriers offer various advantages for large quantities of natural gas to be transported over long distances.
With the innovative concept of the Coselle CNG Carriers, which utilize Coselles, a new technology consisting of large coils of pipes wound into a cylindrical storage container to contain compressed natural gas, gas producers are being offered an economically optimal solution for the transportation of moderate volumes of natural gas over medium distances.
Thus, the Coselle CNG carrier is the first method supporting this segment of the marine gas transportation market that is not economically served by pipelines or LNG ships.
The CNG carriers will provide the market with a safe, reliable and cost effective method to transport natural gas by sea and also deliver natural gas to underserved markets.
However, alternative gas transportation technologies exist which avoid the extremely low temperatures and expensive onshore liquefaction trains, or the high pressure containment systems, and offer more modest containment requirements better suited to raw production gas handling, sea transportation and pipeline quality gas delivery to market.

LNG-value-chain